Best Free Keyword Research Tools
Consumers, when looking for answers, turn to search engines to provide them.
They jump straight onto Google and start typing.
You likely do this yourself too.
Once the search has been submitted the search engines then work tirelessly to display web pages that provide the best results.
The results that are then displayed are the ones which Google believes best match the search intent of that consumer, as seen below.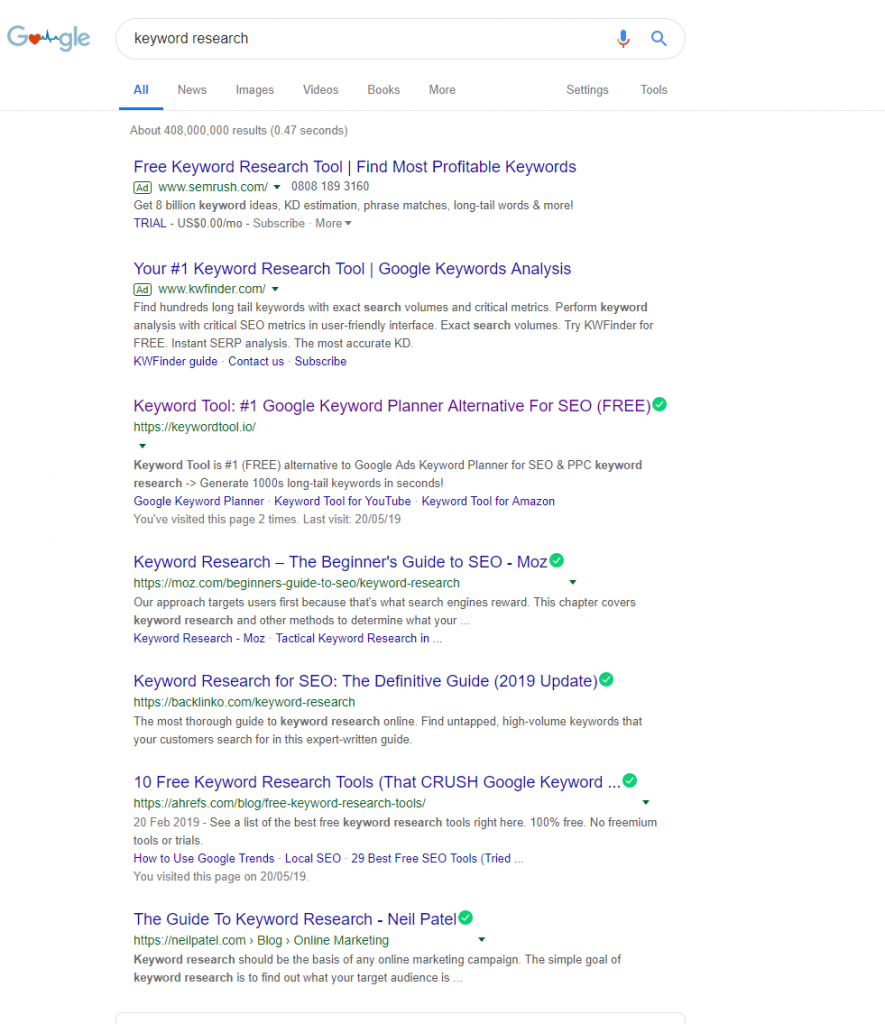 That's where keyword research comes in.
Whether you are a seasoned SEO or you have been seeking knowledge on the subject to optimise your own website, one thing is for sure, you would have heard about keyword research.
Keyword research is a necessary task to discover what consumers are actively typing into the search engines when they a looking for certain information, products, or services which they require answers too.
This research is also used to find the number of times these searches have been performed.
Search volumes are a fundamental indicator when choosing your specific keywords or phrases.
There is an obvious reason for this...
If consumers are not typing certain keywords or phrases into the search engines and you have targeted these phrases in your content, don't be surprised when no one reads it.
There are of course many more factors to explore with regards to keyword research but we will delve into them in more detail in a future article.
So why is it important to include these keywords and phrases in your content for the search engines.
If Google, and the other major search engines such as Bing, are unsure of the subject to which your content is providing answers too, they won't know where that page should rank on the search engine result pages (SERPs).
That's where a careful choice of keywords, synonyms of those keywords and related terms used within your content will help the search engines understand the topic of that page.
Now, when it comes down to finding keywords for your websites service pages or blogs you maybe wondering where to start.
You will certainly come across keyword research tools which require a monthly payment.
These paid tools including, Semrush, Ahrefs and Moz, to name but a few, can be extremely helpful and can give you some great insights.
But there are some excellent alternatives (especially when you are starting out) which allow you to conduct keyword research, and the best part is, they are free!
So, let's take a look at some of the best free keyword research tools and how they can get you started on your SEO journey.
Created by distinguished marketer Neil Patel, Ubersuggest is a great tool.
It is easy to navigate and provides valuable information.
This includes the number of times a search is performed each month, the SEO difficulty of that keyword based upon the competition in the search engine result pages, the paid advertising difficulty and what those other businesses are paying per click for that ad placement.
The tool also evaluates trends.
It does this by displaying the amount of times a search has been performed for your chosen keyword over previous 12 months.
This is a useful element as you can make decisions based upon increasing or decreasing demand for a particular term.
Over and above this, other similar keyword ideas and related terms are also provided, and also the top websites competing for those terms in the SERPs.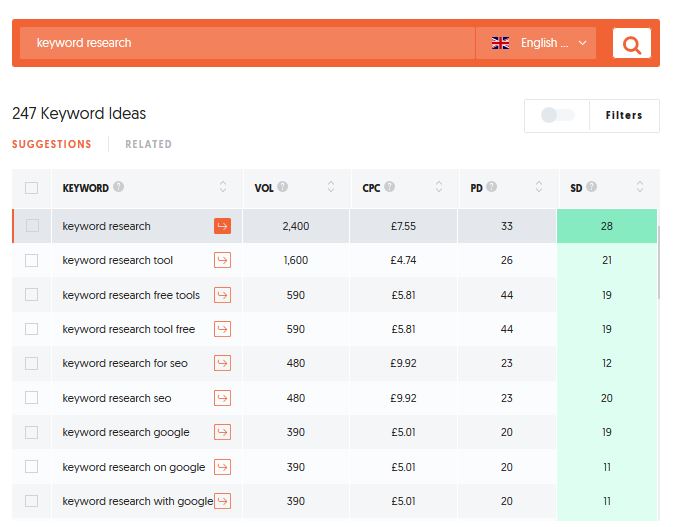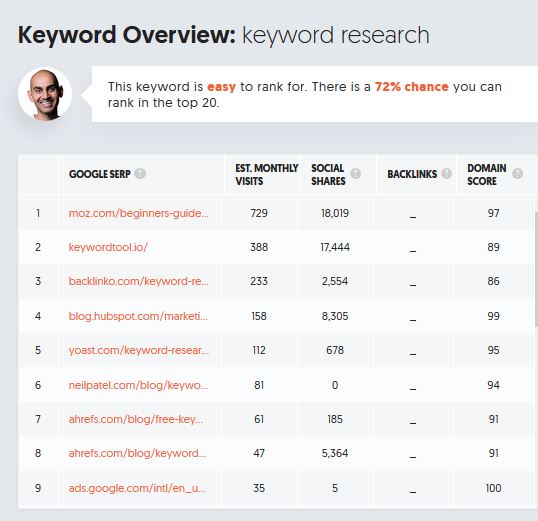 Yes, Google themselves provide tools to help with keyword research.
This tool is primarily for those looking to run Google Ads campaigns but it does also provide you with data to make informed decisions when it comes to keyword selection.
Bare in mind you will need to set up a Google Ads account, which will require payment information, but you will not have to make any payments to gain use of the keyword planner.
One drawback is that not so long ago Google changed the average monthly search volume figures which has made the results relatively vague.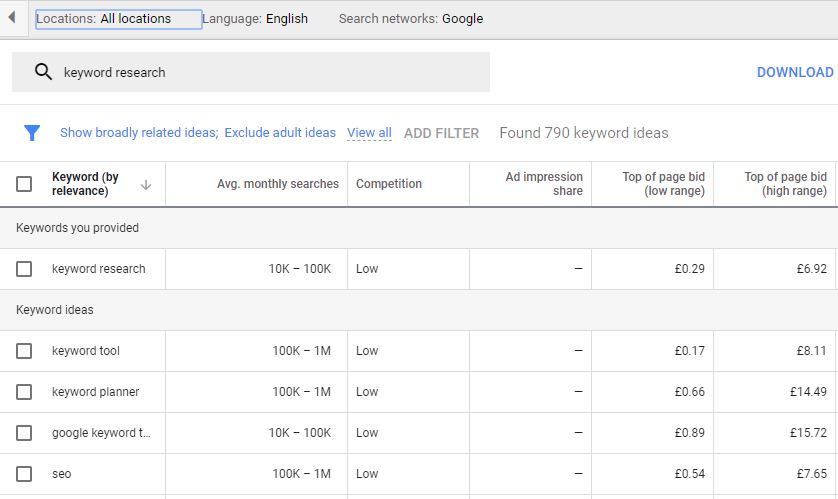 As you can see the phrase 'keyword research' receives an average monthly search volume of between 10k to 100k. That can be quite difficult to use when trying to make an informed about whether to use specific keyword or phrase.
Although, there is a way to get more informed data, which will go into a little later in this article.
The competition column for SEO purposes should be ignored as these scores are focused on the paid ads element, but the 'top of bid' columns can be of interest.
These show how much a company is prepared to pay for a click on a specific keyword.
The higher the bid, the more revenue you can expect that company is generating from being found through that keyword.
So if you can appear organically for that keyword you can expect to see some great results.
Google Trends is another free piece of software provided by the tech giants.
The main purpose of this tools is to display trends of searches and if the are increasing or decreasing over time.
You can select countries those terms have been typed in, how far you want the data to go back (which can currently go back as far as 2004), which category that search falls under, and what type of search was performed, for example web, image or video etc.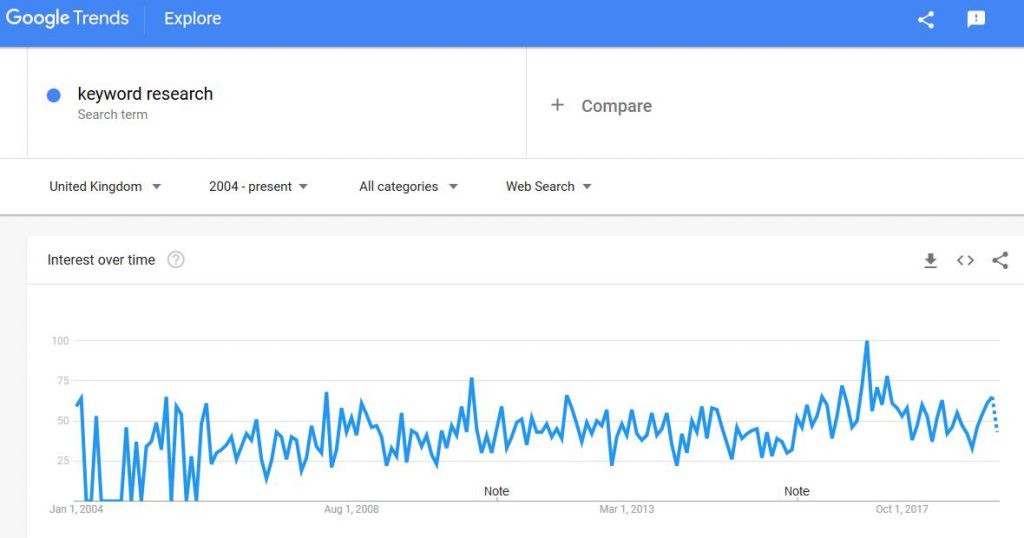 Another great element is that you can compare terms against one another.
As you can see from the image below, when Google changed its ads programme from Google AdSense to Google AdWords there is a change in the search demand for those terms.
This gives you an indication of the keyword you should target if you were to create content on this subject.
Below this chart you will find tables which include related topics and queries. These tables can give you additional data of which you may decide to use when planning your content.
Terms which are described as rising are well worth evaluating.
Moz is quite possibly one the most recognised SEO tools out there.
It is not only used by SEO's for keyword research, but for data on backlinks, the MozBar application which provides information on competing websites straight from the search engine result pages, and training courses to improve your SEO skill.
But for the point of this article we will take a little look into the 'Keyword Explorer' tool.
You will need to create an account with Moz to gain access. This is free but you will only have the opportunity to evaluated 10 keywords per month. If you want more, you will have to pay a monthly fee.
Despite this, the metrics displayed in the tool are excellent.
You'll find monthly search volume ranges, the difficulty of that keyword, click through rate (CTR) of that term in the organic listings and even a priority score, which the higher the number the better perceived opportunity from that keyword.
You can also evaluate other keyword suggestions around the topic of your main keyword.
And like Ubersuggest, there is an analysis of the SERPs page relating to the keyword you are assessing.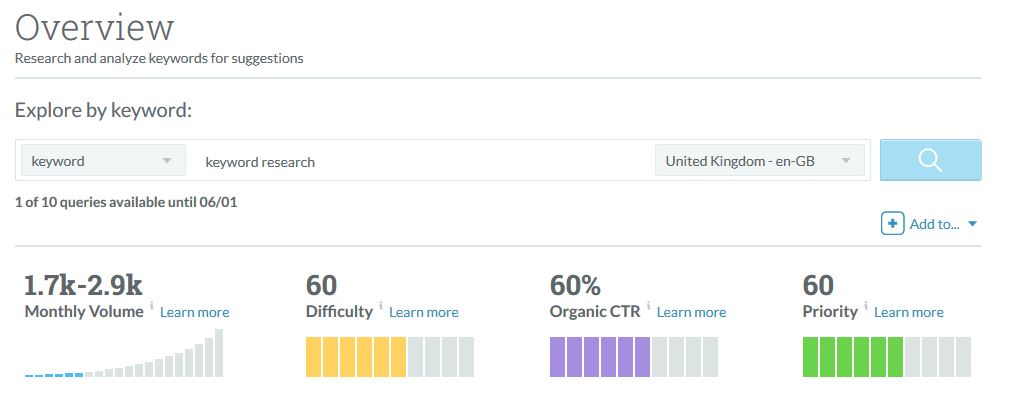 Google Autosuggest and Related Searches
Google autosuggest or autocomplete, is a option which is under used in our opinion.
Yes, on its own this method does not provide you with any search volumes and competition data…
But what you can establish is that if Google are showing these phrases as suggestions, they must have seen these searches completed on there systems before.
Below you can see an example of autosuggest at work.
This can give you some great ideas for keywords of which you can then also run through a research tool which will then provide you with more accurate data.
Based upon the keyword you have typed into Google, scroll to the bottom of the SERPs page and you will find a section that Google calls the 'related searches' section.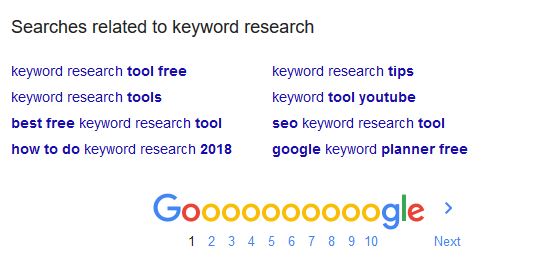 This again provides you with even more potential keywords to use within your content.
Answer the public takes information from Google and Bing and finds the emotions and motivations behind the searchers request.
Based upon the keyword you have entered, the tool then maps these queries into questions, prepositions and comparisons as shown below.
The software also lists all queries returned into an alphabetical format to make it easier to digest.
Like Google autosuggest there is no keyword volume or competition information but this is not the main purpose of Answer the Public.
This tool is perfect for coming up with new content ideas.
It provides you the insights into what the searchers impulse behind the query actually is.
Although you may well get some ideas for keywords which you can then run through the keyword volume tools to receive more detailed data.
Google Search Console, previously Google Webmasters is a tool which is used to monitor the performance and overall health of your website.
But for this article we will stick to how it can be used for keyword research.
Search console would not be used for initial keyword research as it needs to be able to find content prior to providing information on a specific page.
But once the page has settled into the Google system it will provide you with useful data.
You will see which keywords each page is ranking for, the number of impressions it receives and the click through rate of those keywords.
You can then adapt your content to suit the keywords which are performing well which in turn should improve your pages ranking.
Wikipedia can even help you find keywords.
It may not be the best tool to find your main keyword but if you type the subject of your content into the search bar of Wikipedia, it will return results based around that search.
What you will find as that words related to your main keyword are highlighted.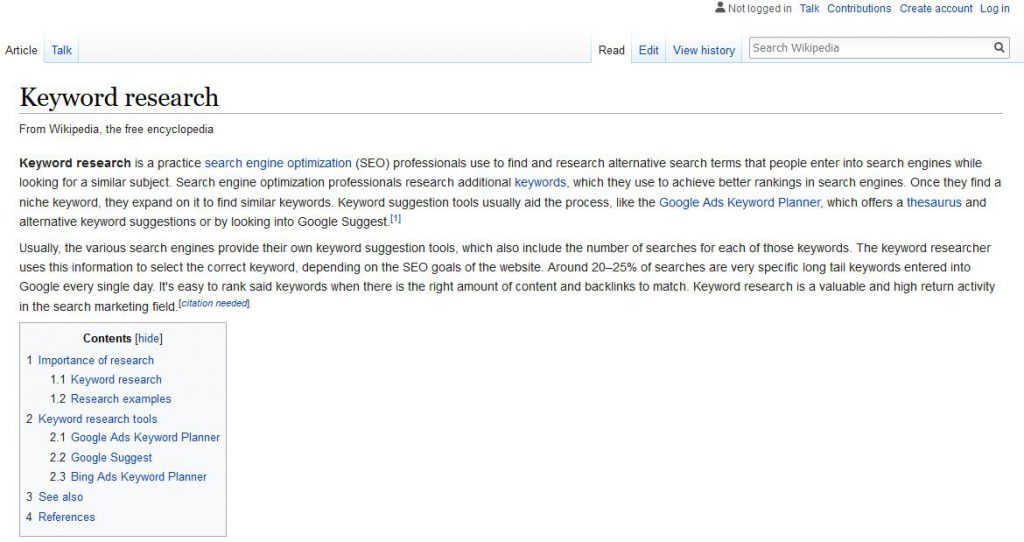 Adding these words into the body of your content will assist the search engines in fully understanding the topic of that page.
What are the next steps...
Keyword research doesn't have to be completed using paid tools.
There are plenty of free options, although you may find you just have to use a number of different tools to get the data you require.
Start using these tools and get familiar with the way they work.
They are a great option if you are just getting started in the world of SEO.
As we said, keywords are a pivotal element of search engine optimisation, but be mindful that there are many other moving parts to a well optimised website.
If you are looking for any help with getting your website optimised and to start generating more leads for your local business we can assist you. Just drop us a message and get in touch.