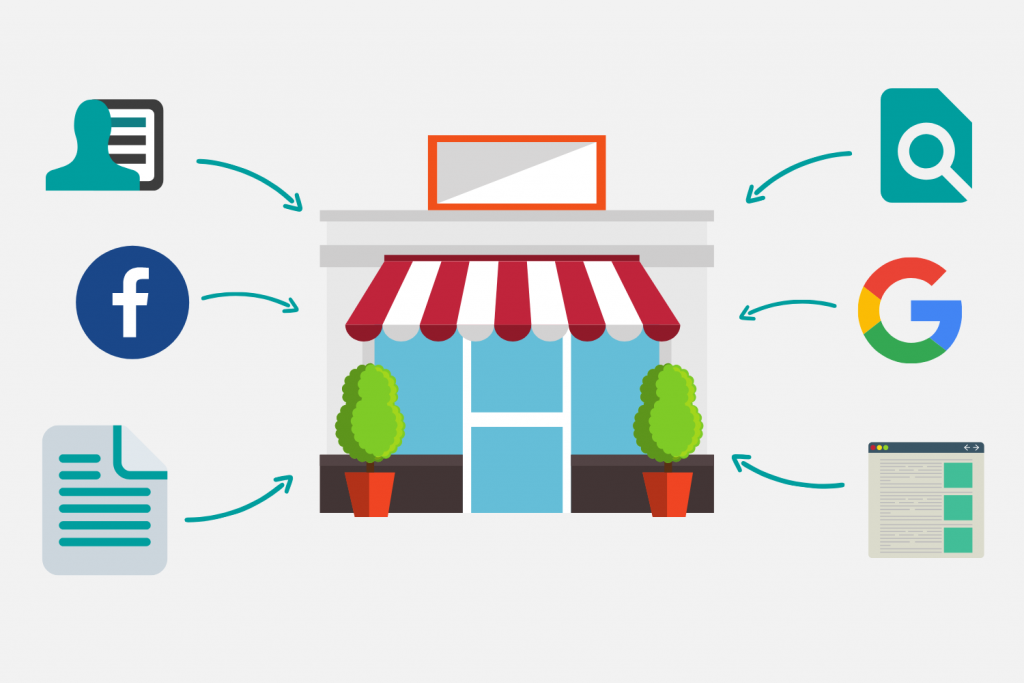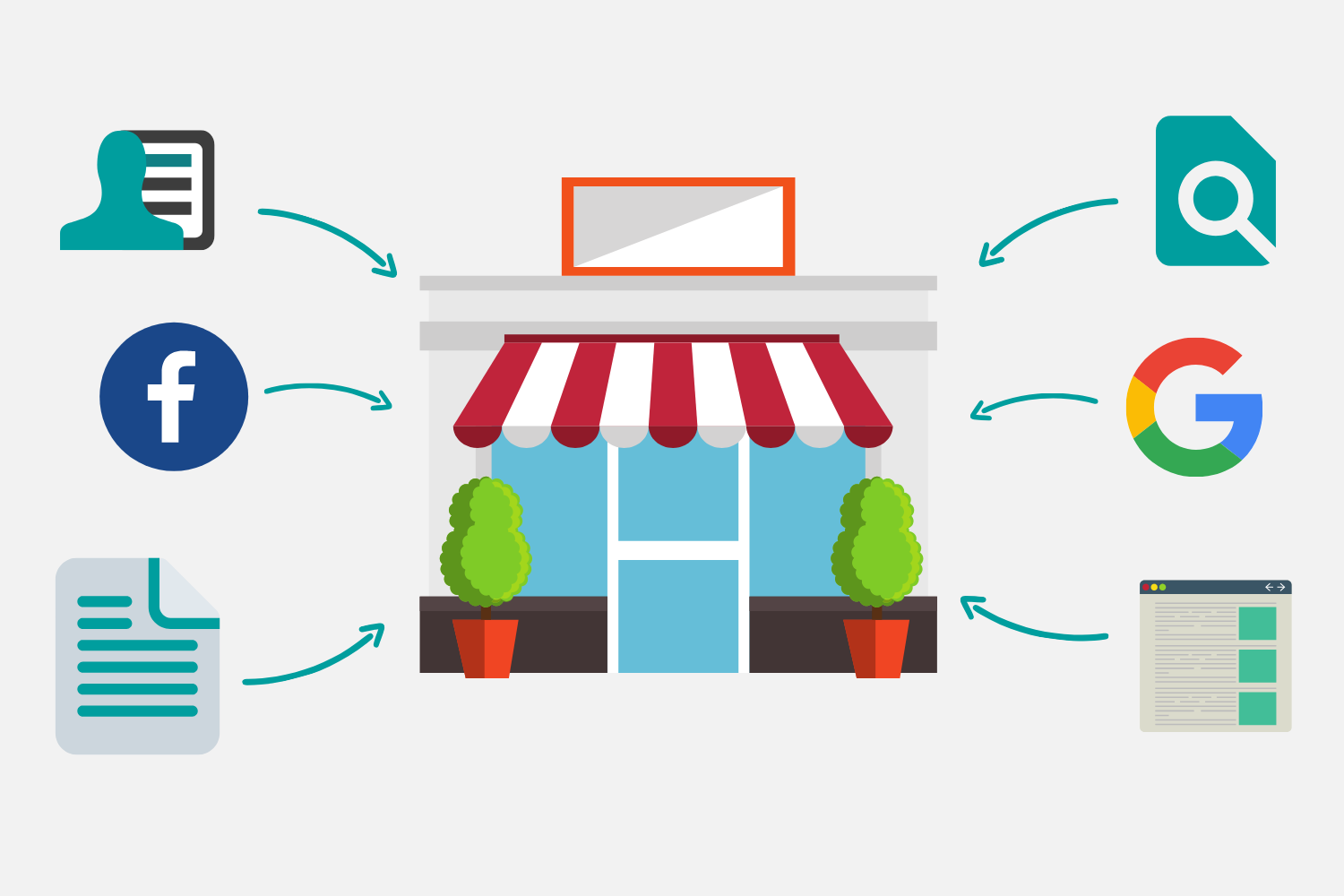 A local citation is simply a mention of your local business online. This mention can be shown in various formats including but not limited to your business name, address and phone number. This is also often referred to as your NAP.
Other variants of local citations could just include your business name only, for example, but some can comprise of other important elements such as opening hours, business description, images and more.
Where Are Citations Displayed?
Local citations can appear in numerous locations on the internet. Most notably they will appear on directory websites such as Google My Business and Yell, but there are many places your business can gain valuable visibility using the power of citations.
Be mindful that if you do not want to display a company address your options for citations will be more limited. Not showing your address is perfect for businesses where your services are offered to a customer at their location, and you do not want to display your home address on the internet.
We will give you some examples of citations where you can decide to hide your address later in this article.
Why Are Local Citations Important?
Citations are incredibly important to any type of local business. Whether that be for a brick and mortar business with one or more physical locations, or a service area based business like a self employed plumber.
Search engines use citations as a form of verification of that business. The accuracy of all these listings boosts your legitimacy and in doing so can boost your online rankings.
Citations also enable your business to be visible in a variety of places on the internet. Simply having a website isn't enough to be found these days. Listing your business on a site like Yell will help your business get higher up in the SERPs due to the authority of Yell's website.
Not everybody will use the same platform to find a local business too. Some may use Google Maps, some will look at websites from the search engine results pages, and others may even turn to sites like HotFrog or social media platforms.
It is vital for your business to be listed in as many as these locations as possible to get the maximum exposure to potential customers.
Is My Business Currently Listed?
You may not have created any local citations yourself, but that does not go to say that you will not already be listed on a number of these sites. For example, there are places where past customers or somebody in the local community can create one or more of these citations for your business without your knowledge.
This can be great for added exposure, although issues can and will arise when the accuracy of these listings is poor. They may have used a slightly different business name, located the business at the wrong address or even included an incorrect phone number.
See the image below. There are two Vision Express listings. The one named Vision is not actually the verified account for that business and is located in the wrong location.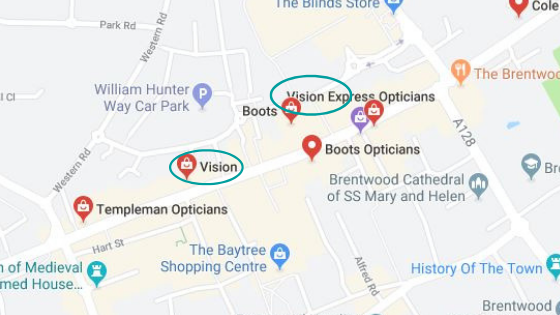 Not only do the search engines look at this as a loss of authority and trust, but so do your potential customers. This can also lead to negative reviews as they may not be able to find or contact your business.
You can discover if your business is currently listed by manually typing your business name or even your business address into the search engine. By typing your address you may also find old businesses who were once registered at your current address. You can then remove or notify the citation site that the previous business has closed.
Another way to check the accuracy and where your business is currently listed is by using this tool from MOZ. Although, this will only show for some of the top citation sources.
How Can I Improve and Increase My Citation Count?
Improving current citation accuracy is an important task to begin. We suggest starting with this process to ensure any current listings of your business are correct prior to adding new sources. Once these are corrected you should then start working through additional citation sites.
Bare in mind, not all citation sites are to be treated equal. There are literally hundreds of places your business could be listed, but some citation sites could in fact harm your business as Google and other search engines do not trust the site linking to you.
Just use some common sense here. If the site looks spammy… don't use that site for a citation source.
Aggregators are sites that collect your businesses data and distribute that data across to other citation sites. Factual, Acxiom and InfoGroup to name but a few.
Aggregators are a great way to offload the work of inputting your information to many different websites which will save you a lot of time, but they can also pose some issues. There have been instances where information has been updated with the Aggregators but only for it to take months for the changes to take place to all citation sources.
The other option is to do this manually. Manual citations is certainly something we recommend although this can be very time consuming and will require many verification emails… trust us, we know!
How Much Do Citations Cost?
Many local citation sites are in fact free to list on. That is what makes them so powerful. There are of course some sources where payment is required but on the whole the free listings will give you a great boost in online visibility.
Examples of Local Citation Sources.
Below we have included some of the best citation sources for businesses in the UK:
Niche websites are a great place to include citations. These sites are authorities in your business category so are worth utilising. Examples of these for a Cafe would be the likes of
Zomato
and
TripAdvisor.
Type into Google 'directory sites for cafes' and you will see other options too.
Localised Directory Sites
Local directory sites are great for the authority of your website. Again, Google 'directory sites' followed by your region or even your city. You could also put a competitors name into the search engine and find where they are listed too. 
Links From Other Websites
This is a little different to a business directory citation, but important all the same. This is where another website links to your business. It is considered a vote of confidence in the search engines eyes and will boost your SEO efforts. You can gain links from other websites by providing great content which other businesses just want to share with their community.
So, Can Citations Help Your Business?
Yes, citations will certainly help your business and are an invaluable task for your local SEO efforts.
We hope we have shown you the importance of citations for your local business, and how they can improve your online visibility by helping the search engines trust your business and enabling more customers to find your services.
Citations are a continuous ongoing task and also quite time consuming to keep them accurate and updated, but it is well worth the investment!