Conducting a Local SEO campaign is an effective way to promote your local business online. It helps to display your products and services to your local customers right when they are searching for them.
There are many moving parts to local SEO, all of which help Google to make a decision on which it believes are the best businesses to display depending on the searchers typed or spoken query.
How Does Local SEO Differ to Standard SEO?
There is a fundamental difference between standard SEO and Local SEO.
Standard SEO is focused around generic query terms. This is where a searcher is looking for answers to questions with phrases such as 'how to…' or 'best ways to…'.
Local SEO comes into play when a query has more purchase intent behind it. This includes searches such as 'florists near me' and 'best florist in (specific location)'.
As Google now recognises the local intent behind these search terms, it will display results to match that search intent. In fact, if Google knows your location or you are using Google maps, it will not even require a 'near me' or 'geo modifier' to understand a queries local intent.
This has been a great development for small local businesses. This is because it now enables them to compete with larger multinational companies who would have previously beaten them to the top of the SERP (search engine result page) positions.
Sources – Hubspot & Think with Google
How Are Local Searches Displayed?
Searches with local intent are displayed in a very different way to searches with generic queries. The results that are displayed do a lot to help your local business generate calls, visits to your website and even customers through your doors.
This is known as the '3 pack' or 'local pack'. The local pack displays the 3 local businesses which Google believes provide the customer with the best services or products to answer their needs within a specific geographical area.
See below the example for the search query 'florists in London'.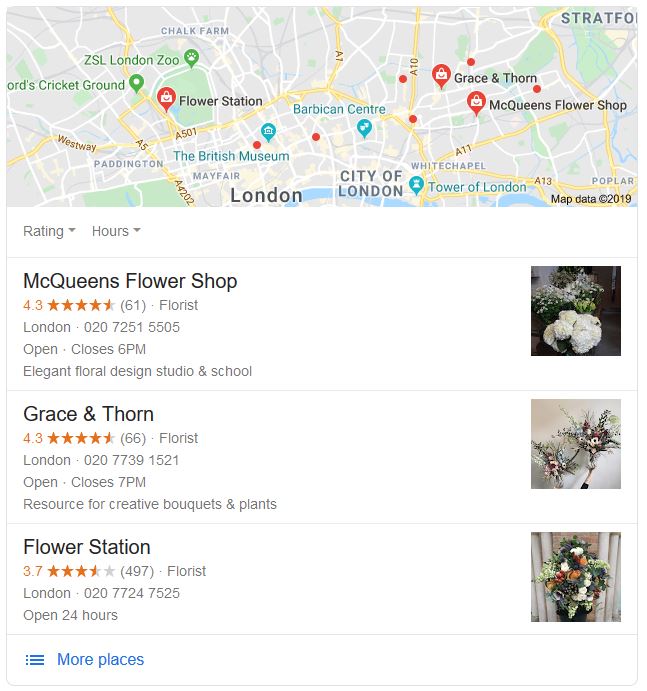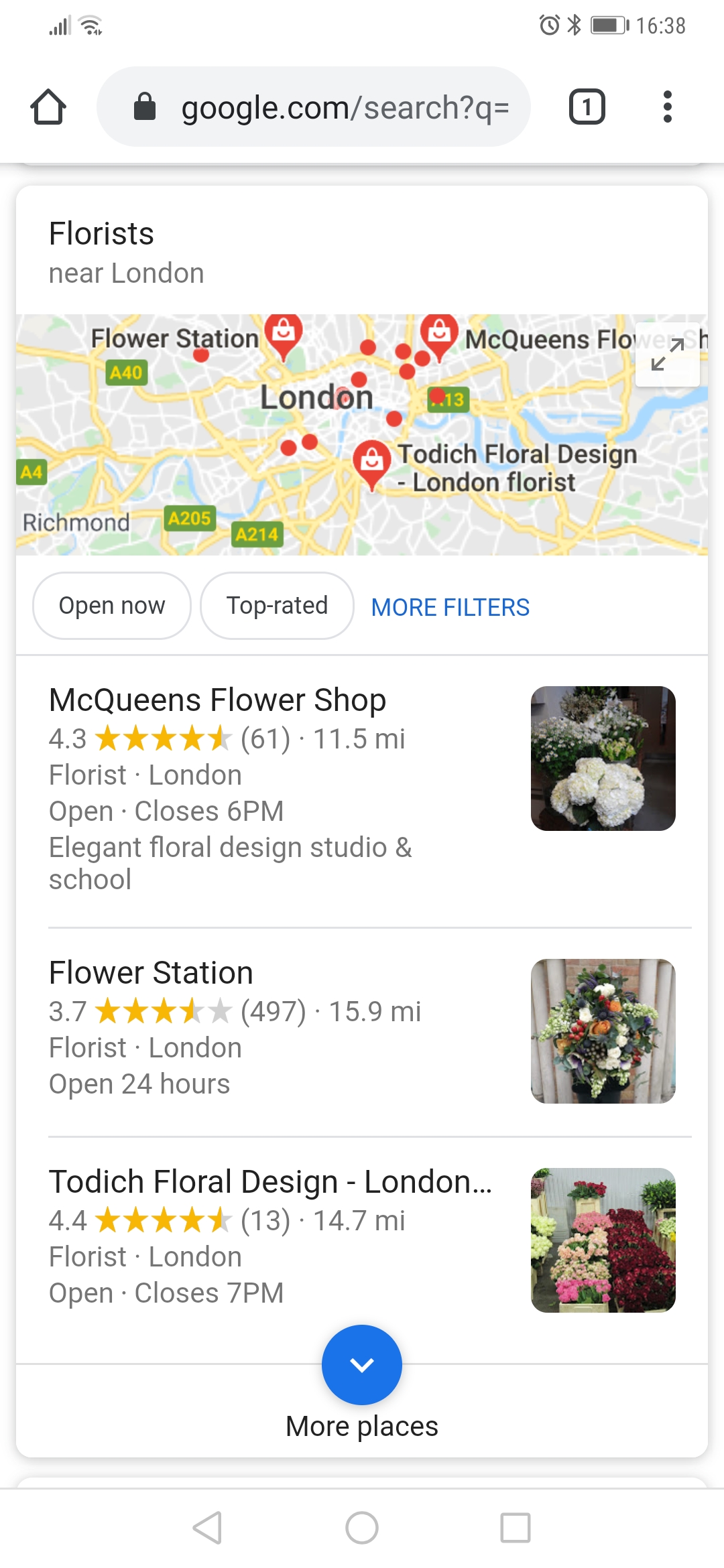 As you can see, these results provide the searcher with details about these businesses such as the business name, reviews, its location and opening hours. For some business types, when using a mobile device, you can even call the business right from the local pack screen.
This information is all collected from what is called your Google My Business profile (More on this later).
There are 3 elements which determine the visibility of your business in local search queries.
1.  Distance
2. Relevance
3. Prominence
Distance is exactly what it says it is. This is the distance your business is away from the location of where the search was carried out. If no location has been specifically requested in the search, Google will use data from what it knows about the searchers location.
Relevance is how well your business information matches the searchers query. The more thorough your business details are on your Google My Business account it will help Google understand whether your business is suitable to be displayed for each specific search.
Prominence is what others say about you and how well known your business is. Google uses factors such as reviews, directories and links from other sources to essentially score your businesses.
So now you know how Google determines which businesses to display, based on a customers search, let's look into the ways that your business can improve its visibility online.
Claiming Your Google My Business Profile
Google My Business (GMB) is a tool that is offered by Google where your local business can provide all its vital information to help local customers find you. Google My Business is one of the key elements of local SEO.
When your business has a GMB profile setup, Google will use this information to provide results for the local pack mentioned earlier, and also the results provided in Google Maps.
Your business will also appear for branded searches in the SERPs in what is known as the knowledge panel. This panel will display all your business information right on the first page of Google. But bare in mind this is only when a potential customer actively searches for your business's name.
Customers can also interact with this panel by asking questions, leaving reviews, and on mobile, directly calling and requesting directions to your business.
Setting up a Google My Business profile and completing the information in as much detail as possible helps with the trustworthiness of your business. It also makes your business more appealing for customers to explore what your business has to offer them.
Bing also have an equivalent to Google My Business called BingPlaces. This is certainly worth claiming too but due to search engine market share, Google is certainly the most prevalent at the current time.
Building and Monitoring Citations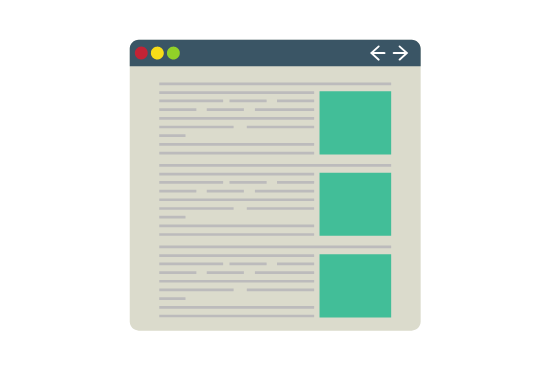 Citations in their basic form are any mentions of your business name, address and phone number online. This is also referred to as your NAP.
Your NAP is usually found in online directories and business listings. They play an important role not only in helping customers discover your business in more locations across the internet, but they also help Google trust that your business information is correct.
Ensuring these citations are kept accurate and added to places where customers are looking for specific services you have to offer is incredibly important to keep ahead of your competition.
Managing your business's online reputation has never been so important.
With over 60% of customers turning to Google My Business reviews about a local business, and a majority of them reading the reviews prior to using a specific business, management of these reviews is a necessity.
Responding to negative reviews in a professional manner goes without saying, but many business owners ignore the good reviews too. Responding to both the negative and the positive can really make your business stand out and shows that you care what your customers say about you.
The number of reviews your business receives, and the quality of those reviews, show the search engines that your services and products are trusted by your customers. Therefore it is additional proof to the trustworthiness of your business.
Localisation of On Page Elements Of Your Website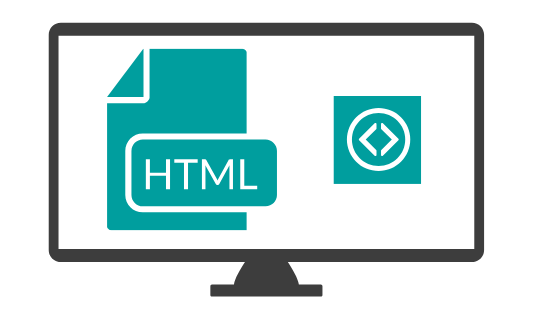 Localisation of your website is when geographical locations are added to elements of your on page content.
These elements include meta titles and descriptions and also the actual written content on certain pages within your website.
If your business has multiple locations then optimising your home page for a particular area will not provide the best results. For a multiple location business it is best to create individual location pages for the locations of your physical stores or service areas to gain the maximum visibility.
Creating these pages will help your business appear in the standard SEO links too which appear below the local map packs.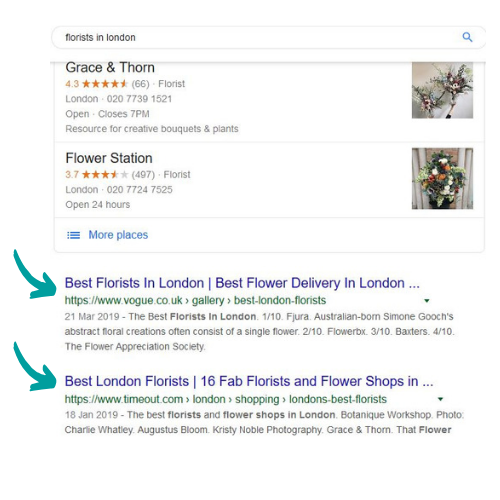 You may have also heard of 'schema markup' or 'structured data'. This is where segments of HTML code are added to sections of your website. This includes information such as an address, phone number and reviews. This all helps the search engines to better understand what these sections are, which allows them to provide more informative results to the searcher.
Improving Technical Elements of Website
With so many searches being performed on mobile devices, especially for local businesses, having a mobile friendly website is now extremely important. In fact 61% of mobile searchers are more likely to contact a local business if they have a mobile-friendly site (hubspot).
Improving your website loading speed will also lead to a better user experience which in turn will keep customers on your website for longer and showing to the search engines that your website is of a good quality and therefore improving your position in search results.
So Why Does Your Business Need Local SEO?
With so many potential now turning to search engines to find local products and services, appearing at the top of the search results can really make a difference to your business.
Local competition is becoming stronger on a yearly basis and staying on top of your SEO efforts can help you stay ahead that competition too, helping your business thrive.
Google My Business is a prominent component of a local SEO campaign. This process requires setting up and optimising your GMB account to give you the best opportunity to appear in the local map packs.
Citations are beneficial to any local business, especially when you are looking to get your business noticed online. They are also an indicator of trust to both your customers and the search engines. ​​
Reviews play a crucial role in whether a customer decides to use your business or a not by checking previous customer experiences. They are seen as a vote of confidence for both customers and search engines.​​
On page seo is the process of optimising the on page elements of your website to perform better in the search engines. This will help both customers and search engines understand your websites content improving its relevance.​​
Building links back to your website not only helps more customers find your website but also gives your business more authority in the eyes of the search engine which in turn improves your position in the SERP's giving your business more exposure.​
Adding valuable and relevant content to your website continuously will keep your audience engaged and your brand in front of mind. It can also be used to strategically drive customer actions on your website.