What is On Page Optimisation?
On page SEO has critical role to play in the performance of your local businesses website on the search engines. On page SEO enables the search engines to better understand the content of your website. With this understanding they can rank your website for the terms and phrases your potential customers are typing, or saying, to find a business like yours.
There are several tasks which are required to fulfil your on page SEO strategy:
Keyword research is the starting point for any on page SEO strategy. In fact it is of high importance for your Google My Business account and other opportunities too.
Keywords are what your potential customers type or say to find a particular product or service through the search engines. For a local plumbing company that could be 'plumbers in (your location)'. The search engine will then return a list of the results it deems to be best for that user.
Keywords placed strategically into your website will help your business appear for these terms. This will increase the possibility of your business being found online. You can carry out keyword research using free tools although paid options do provide more opportunities.
Content optimisation is the process of ensuring your on page content is relevant and targets the keywords found in the initial keyword research phase. This will help your customers by providing information about the service you provide.
If this content is deemed 'thin' by the search engines they will consider that your content is not adding much value to the searcher. Because of this they will not rank the content as highly on the search engine result pages making it hard for customers to discover your business.
The use of H1 to H6 tags (title and subtitles) and including your discovered keywords into these titles also helps your content performance.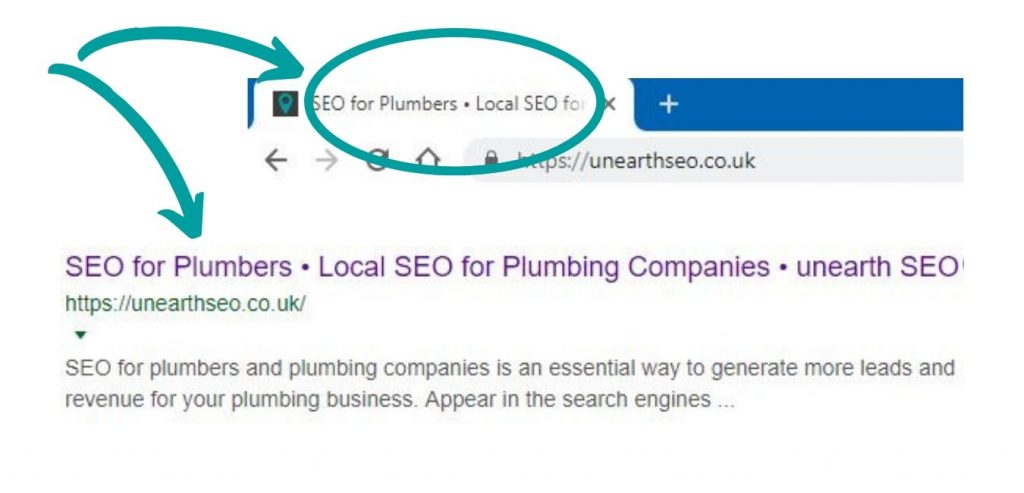 Your title tag is technically the name of each page on your website. The title tag will appear in a few locations on the internet as shown opposite.
This is the perfect place to include your discovered keywords and to help the search engines understand the content of each page. It goes without saying that if the content on the page then doesn't match that of the title tag the search engine will more than likely not display that page.
Another important reason to include a relevant title tag is that it will be more appealing to the searcher in the SERPs and increases the likelihood of your business receiving the click.
Your meta description is what appears below your title tag in the SERPs pages. This doesn't necessarily improve your search ranking directly, although it is certainly an element which improves the click through rate (CTR) which in turn will have an effect on rankings.
This is where good content becomes a factor too. If a user lands on your page and it doesn't meet their expected result they will return to the search engine to go to the next listing. This can have a negative impact on the online visibility of your business as the search engine will understand from user behaviour that the web page doesn't offer much in the way of value to the searcher.
Meta Description Optimisation

Many website owners are unaware of the positive impact images have on the visibility of your businesses. Not only do they make a website more attractive to the eye, they also play a role in rankings. 
Images should have descriptive file names, alt tags (which are for those that are visually impaired) and can also be tagged to improve local SEO performance. 
This optimisation will also help your images appear in the search engines image results which in turn can help drive additional traffic to your website.